Investigations, Crisis Response & Compliance
Broad expertise in compliance management and investigations
Recognised experts in the field of internal investigations and all matters of compliance
Regulations have increased, and so have the costs of non-compliance. Situations in corporate life can quickly develop into crises. Our team not only assists you during investigations but can also guide you through establishing corporate compliance programmes that address your greatest compliance risks, mitigating problems before you face a potential investigation.
Combining expertise from different areas such as corporate law, regulatory, competition or procurement law as well as sector-specific knowledge, we can advise you throughout the CEE/SEE region on the ever-shifting regulatory frameworks that directly affect your daily work and long-term success. When problems do arise, we can rapidly coordinate cross-border investigations to determine the scope of the problem and swiftly protect you and your business. Wolf Theiss' Investigations, Crisis Response and Compliance team has been recognised for investigations in the GIR 100 2022 ranking, published by Global Investigations Review.
Corporate criminal liability and exterritorial effects of anti-corruption legislation such as the Foreign Corrupt Practices Act, UK Bribery Act, SAPIN II law and many others impose additional burdens on companies, as regulators and law enforcement agencies are under increasing pressure to investigate and prosecute companies and individuals for criminal misconduct and regulatory breaches. When your personal and company reputation is at stake or large compensation claims threaten your corporate existence, a timely response is key.
Our experienced team can guide you through situations involving large-scale corporate events or cross-border investigations. No matter what industry sector you operate in, we can structure a corporate investigation in a way that your legal privilege will be preserved, and a reporting duty will not be triggered. Since prevention is better than cure, our experts can also assist you in implementing an effective compliance management system.
Hands-on experience in crisis response, risk management, investigations & compliance
"Lawyers of the firm have established a unique team in the field of compliance who want to achieve excellence".

– Chambers Europe
"Recognised team quickly gaining strength in the field of compliance law, including high-profile white-collar crime proceedings."

– Chambers Europe
What makes our team the best lawyers for you?
Our regional, integrated firm offers distinct advantages, spanning the full spectrum of legal services.
An established international law firm with 60+ years of experience in Austria and CEE/SEE
A fully integrated, single team of 340 locally-qualified lawyers in 13 countries and offices
Collaboration and innovation across multidisciplinary teams and offices
Excellent client satisfaction – responsive, client-oriented, and consistent
Experience with complex and cross-border matters covering the full spectrum of legal services
Knowledge and expertise to add value to deals across industries
Leading the legal field
Our lawyers are involved in key transactions and matters across the region, bringing their industry expertise and specialised business knowledge to add value to our clients' work.
In-depth compliance management analysis for healthcare client
Advised international foodservice company following alleged misconduct
Comprehensive internal investigation for financial services company
Advised major Austrian company on investigation regarding GDPR violations
Multi-layered support for client facing alleged misconduct
Our team advised an international company in the foodservice industry in relation to alleged misconduct for which the company has faced criminal prosecution. In addition to representing the client in these proceedings, we also conducted a corporate investigation into the allegations and provided the client and its employees with a comprehensive training programme in compliance, public tenders law, anti-bribery policies and processes.
In-depth compliance management analysis
We provided legal services to a client from the healthcare sector in relation to proceedings initiated against some of the client's subsidiaries, including representation before the Czech authorities and conducting a corporate investigation into the allegations. We conducted an in-depth analysis of the client's compliance management system, recommended improvements, and drafted respective guidelines and organised compliance trainings.
Technology market leader compliance check
Our team advises a market leader in technology in connection with its compliance check on the commercial dealings between its Hungarian subsidiary and another local entity. Our team has also conducted a corporate investigation into alleged misconduct by the local management.
Comprehensive investigation and support for financial services client
Our team advised a financial services company in connection with an internal investigation at an Austrian portfolio company following the discovery of legal violations. Our tasks included comprehensive investigation and legal processing of the facts, assertion of claims arising from a share purchase agreement, and support of the company and its advisors in asserting claims arising from directors' and shareholders' liability.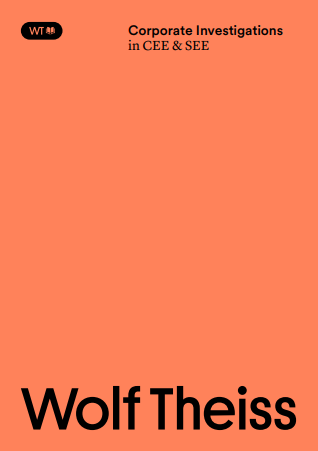 Corporate Investigations Guide
The WT Corporate Investigations Guide provides country-level analysis for 13 key jurisdictions in CEE/SEE on topics such as the obligation to investigate conduct internally, planning and structuring investigations, interviewing employees, criminal proceedings, confidentiality and legal privilege, whistleblowing, and more. Also includes an outlook for developments in 2023.
Areas of specialisation
Anti-corruption
The increased focus of international anti-corruption enforcement puts companies under additional pressure. Criminal authorities expect companies to be able to prove that they can identify misconduct internally and respond appropriately. Such an appropriate response involves an internal investigation of the misconduct and measures such as reporting to the authorities. Existing compliance standards need to be reviewed and often amended. You can rely on us to investigate misconduct and advise on the best possible response.
Business crime
Have employees defrauded your company or its business partners? Are decision-makers disregarding the company's interests and are involved in damaging business practices? Whether you are the suspected party preparing a defence, or the investigation team pursuing damage claims against the responsible parties, you need a highly experienced and knowledgeable team with existing relationships to the authorities. This is the value add of our team.
Corporate criminal liability
The concept of corporate criminal liability is still relatively new for the CEE region but is an established concept in other jurisdictions. The extraterritorial impact of foreign anti-corruption laws is significant, and criminal prosecution of legal entities is on the rise.
We can help you navigate this complex landscape and overcome both existing and potential risks when conducting business in this region. We can advise you in relation to allegations of fraud, bribery and corruption, breach of financial or trade sanctions, cartel investigations, insider trading, cybercrime, money laundering and other types of financial misconduct.
Corporate investigations
Whether you are the subject of a probe initiated by the authorities, whistle-blower complaint, dawn raid, or you need to deal with a business ethics breach, or suspect misconduct, you can rely on us to provide you with top-level legal assistance. We routinely deal with cross-border corporate investigations, including representation in the related proceedings. We don't just assist you in finding the best strategy but, together with you and with crisis PR specialists, we will help to put crisis management and communication plans in place.
Crisis response
When you are the victim of cybercrime or fraud, suffer data security breaches or are subject to a sensitive internal investigation, it is vital to move quickly and to have the right team of legal advisors at your side. You can benefit from our many years of experience advising clients in administrative, regulatory and government investigations, as we work together with you and with specialists in crisis PR to ensure the right messages are made public.
We will support and assist with any internal investigations and provide the necessary legal advice as to the board and management's reporting duties. We can help in putting crisis management and communication plans and procedures in place, so that you are well prepared for all eventualities.
Compliance & prevention
The number of regulations in many industries and areas of law is steadily increasing, and so have the costs of non-compliance. Today's highly regulated global and virtual marketplace requires a multi-jurisdictional approach to ensure adequate compliance programmes as well as deep knowledge of individual industries.
Combining expertise from different areas such as financial markets, corporate and criminal law, regulatory, competition or procurement law as well as sector-specific knowledge, we can advise you throughout the CEE/SEE region on the ever-shifting regulatory frameworks that directly affect your daily work and long-term success.
Authorities increasingly look at existing compliance programmes when exercising their discretionary powers to prosecute companies and scrutinise how companies respond to misconduct. Authorities increasingly consider whether a company's compliance programme is merely a 'paper programme' or whether it was designed, implemented, reviewed, and revised, as appropriate, in an effective manner. Such "paper programmes" are not only unsuccessful but can actually worsen a company's position.
Our team will help you identify, develop, monitor and enforce your compliance programme to address global ethics and compliance risks as well as to mitigate any compliance-related problems before and if you face a potential investigation.
We will not just guide you through the establishment of such programmes, but we can also provide training for management boards and senior executives and draft and review your compliance documents, such as codes of ethics, anti-corruption and anti-money laundering guidelines, and rules for internal whistleblowing procedures.
State-owned companies, listed companies, privately held groups, private equity fund managers and start-ups are just some of the types of entities we have helped guide through the various elements of effective compliance.
Anti-money laundering
Across the world, more than 2 trillion dollars of "dirty money" are laundered every year. New measures are being introduced and existing measures strengthened to prevent and combat money laundering and terrorism financing (AML/CTF). The scope of professions and corporations that are subject to AML/CTF obligations are steadily increasing. It is a key area of focus for regulators and law enforcement with possible consequences including asset freezes and criminal prosecution of legal entities or individuals, and regulatory enforcement action that can jeopardise a business.
We can help you to minimise the risks associated with money laundering and related activities. We assist with performing third-party and transactional due diligence; reviewing and refining your existing internal policies and processes; developing and implementing new AML/CTF compliance programmes and procedures; conducting internal investigations, including advice on disclosure and reporting; providing training on various aspects of anti-money laundering regulations, requirements and procedures; and support with unfreezing assets and representing you in legal proceedings.
Sanctions
With the current shifting economic and political landscape, individual states and international organisations such as the United States, the European Union and the United Nations are increasingly imposing sanctions and other trade restrictions on countries and individuals.
We can help you run your international and cross-border businesses smoothly by: advising on avoiding potential risks, advising on whether transactions are permitted under sanctions legislation and the consequences of sanctions breaches; preparing sanctions compliance policies; accompanying staff training products; advising on contractual drafting to take account of sanctions risks, both in commercial contracts and loan agreements; and advising on dispute resolution matters arising from the imposition of sanctions, including representation in any legal proceedings concerning potential breaches of sanctions.
Cybercrime
Cybercrime is one of the fastest-growing areas of criminal law with more and more criminals exploiting the anonymity and speed of the electronic world to commit an ever-growing number of crimes. With offenders ranging from individual hackers to highly complex international cybercriminal networks, you need a team which has the size, connections, knowledge and partners to react immediately. The close cooperation between our White Collar Crime, Data Protection, IT and Crisis Management specialists makes us a partner you can trust to get the job done.
Environmental and human rights
Environmental and human rights issues are rising in importance in the corporate/business agenda. In order to comply with new regulations and requirements, companies need to be able to understand their business implications, to adopt an active and risk-based approach to assess their activities and to anticipate potential issues according to international standards.
We perform targeted due diligence and impact assessments on various projects, M&A transactions and global supply chains. We help our clients respect environmental issues and human rights, to develop effective compliance programmes and measures and to identify, assess and mitigate potential risks.
Third-party & integrity due diligence
The regulatory framework for anti-bribery and corruption and other risks such as sanctions, money laundering or various operational and reputational issues has strengthened globally. Therefore, third party and integrity due diligence is necessary to be regularly performed by corporations to identify and mitigate potential risks presented by third parties before or during undertaking contract or corporate activities.
We help our clients conduct an appropriate level of a risk-based due diligence of customers, suppliers, distributors and other business partners, through comprehensive background searches covering information on the shareholding/ownership structure of entities, key individuals, adverse media and other potential issues, which is gathered from publicly-available resources and various subscription-based databases.
Anticorruption & compliance due diligence in transactions & M&A
If you are considering potential acquisition, investment or expansion opportunities, a specific compliance and anti-corruption due diligence should be undertaken to check for potential deal and business risks and liabilities. We work alongside our corporate team to perform due diligence which focuses on the risk of corruption, anti-money laundering and other business crimes, violations of sanctions, operational compliance and human rights or environmental issues. We also recommend contractual provisions in transaction documents and advise on potential risks and remedial actions.
Accompanying tools & services
Corporate intelligence unit
Our in-house Corporate Intelligence Unit provides extensive intelligence services targeted at ensuring your success and protection. By collecting, reviewing and analysing information from publicly available and commercial resources we provide you with in-depth legal and business background research on companies and individuals, the connections between them, their involvement in current and past cases, media coverage and other issues. We can also run your KYC, reputational or pre-acquisition checks.
E-discovery
Finding relevant information in a mass of electronic data is like looking for the proverbial needle in a haystack. We are familiar with the use of e-Discovery technology, a sophisticated and transparent tool for collecting and reviewing electronically stored data that potentially may become a source of evidence. Using a clearly defined scope of review and with a list of specific key search terms, we can find, analyse and flag relevant information. This can be completed while preserving your data privacy obligations. We cooperate with top e-Discovery providers and provide independent advice on your best available solution.
SecuReveal – a whistleblowing system for your company
To ensure active compliance management, you need a reliable whistleblowing system that prioritises data security and confidentiality. That's why we developed SecuReveal, which is a software-based whistleblowing system which meets the highest standards of cost efficiency and technology. SecuReveal allows violations of company compliance codes to be easily reported, securely handled and resolved.
Visit us at rbs-consulting.eu/whistleblowing-system or at https://www.linkedin.com/company/rbs-consulting-eu.
Asset tracing and asset recovery
With our offices throughout the CEE/SEE region and our strong working relationships with local business communities and authorities, we are capable of handling sensitive and complex cross-border disputes for our clients. We have wide-spread experience in both domestic and transnational asset protection and asset recovery work. We also regularly advise and represent our clients in enforcement matters throughout all appeal stages of the state courts as well as in proceedings enforcing or defending the enforcement of arbitral awards and procedures related to interim relief measures.
When a company is damaged due to criminal acts, time is of the essence; in particular in the first days following the discovery. The sooner you start tracing the assets the higher the chances to recover them. We support damaged parties seeking compensation against any third party. We help gather the necessary evidence, and use our networks of corporate intelligence firms and providers to give our clients an advantage in efficiently developing tailor-made strategies.
Our work in the field of practice particularly includes:
Cross border litigation work;
Representation in enforcement proceedings seeking to avoid or secure enforceability of judgments
Defeating planned asset-protection strategies
Recovering assets from increasingly complex trust structures
Assessing the impact of criminal law – successful representation of our clients both on the defence and the claimant's side (damage claims brought by injured parties)
Defence in proceedings aimed at challenging arbitral awards
Close co-operation with forensic experts
Frequent co-operation with private investigators with a view to go beyond the information readily available from public sources.
What others say about us
"A client appreciates that the lawyers offer 'extraordinary expertise, quick delivery of advice, thorough analysis and business-oriented solutions.'"

"Reflecting on the firm's excellent communication channels with authorities, one client says: 'Our overall impression of Wolf Theiss is absolutely positive. All services were delivered quickly and in the best quality.'"

– Chambers Europe
"They work very well as one team across offices and provide timely, thorough and practical advice."

– The Legal 500
"Excellent expertise in multinational data protection compliance work, and is equally adept at handling security breaches, privacy matters, and local data protection issues."

– The Legal 500
Get in touch
Whether you need an international team with extensive experience, Wolf Theiss can support your business goals through our profound legal practice.