Press Release
Wolf Theiss further expands with six new partners
Vienna, 7 September 2022 – Wolf Theiss further strengthens its regional presence and legal expertise in CEE/SEE with six new partners: Teja Balažic Jerovšek, Roxana Dudau, Konrad Kosicki, Nikolaus Loudon, Tomasz Siembida and Venus Valentina Wong.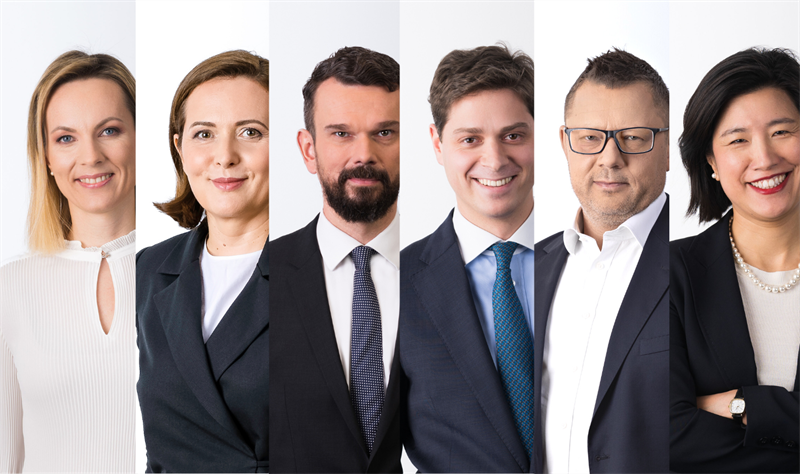 The appointment of six new partners in Bucharest, Ljubljana, Vienna and Warsaw reflects Wolf Theiss' commitment to continued investment and growth in the region and to the provision of seamless services across CEE/SEE.
Roxana Dudau joined the Bucharest team on September 1st as member of the local Real Estate & Construction practice. Roxana is a well-known Real Estate practitioner, bringing over twenty years' of experience. Throughout her career, she has advised strategic foreign investors active in the field of retail and construction on their market entry and expansion in Romania.
Tomasz Siembida has 25 years of professional experience in the Polish and international markets. He specialises in public and private M&A, corporate law in its broadest sense, including corporate governance and corporate restructuring, as well as corporate disputes. Tomasz has extensive experience in cross-border transactions and domestic mergers and acquisitions. He advises on structuring transactions and optimising capital groups. In recent years, Tomasz has advised on numerous transactions and restructurings, including in the banking, pharmaceutical, consumer products production, entertainment, development, energy and transport sectors.
In addition to lateral hires, Wolf Theiss is committed to the internal promotion of talented lawyers. Due to their outstanding achievements over the past years, Teja Balažic Jerovšek (Ljubljana), Konrad Kosicki (Warsaw), Nikolaus Loudon and Venus Valentina Wong (both Vienna) will be promoted to partner.
Teja Balažic Jerovšek has more than 15 years' experience in the legal profession. Previously, she worked at the District Court in Kranj, at a local litigation law firm and at another commercial law firm in Slovenia. Her experience includes advising local and international clients from several industry sectors (banking, insurance, pharmaceutical, food, retail, transportation) in their day-to-day business and in challenging reorganisation proceedings (including transfer of employees or collective redundancies). She also represents clients in litigation proceedings as well as in out-of-court negotiations.
Konrad Kosicki is part of the Energy & Natural Resources team in Poland. Konrad advises clients on the acquisition, development and financing of conventional and renewable energy projects as well as on regulatory issues and on trading in electricity, natural gas, green certificates, and other commodities. Konrad has represented several energy companies before the President of the Energy Regulatory Office, common courts and in arbitration proceedings. His experience also includes advising on infrastructure projects such as motorways and stadiums.
Nikolaus Loudon is a member of the Disputes Practice Group in Vienna and and a key member of the region-wide white collar crime team. He has ten years of experience in handling complex white-collar crime matters and international disputes. Nikolaus focuses particularly on white collar crime defence, corporate criminal liability, investigations as well as business crime matters including fraud, money laundering and financial criminal defence.
Venus Valentina Wong is a member of the Disputes group in Vienna and specializes in international commercial and investment arbitration. She has acted as counsel, arbitrator, and tribunal secretary in more than 80 arbitration and other ADR cases under the major arbitration rules, including ICC, VIAC, DIS, Swiss Rules, CEAC, LCIA, and UNCITRAL.

"We are thrilled to welcome six exceptionally talented professionals as new partners. Their proven expertise strengthens our capabilities to better service our clients in the CEE region. These appointments also showcase our commitment to internal talent development while at the same time amplifying our portfolio with external know-how"

Sebastian Oberzaucher, Managing Partner
Most recently, Wolf Theiss was able to confirm its outstanding market position by maintaining its IFLR rankings in key practice areas such as Financial and Corporate, Banking and Finance, Project Development, Capital Markets, M&A, Project Finance, Restructuring and Insolvency. These success stories once again confirm Wolf Theiss´ strategy of regional growth.